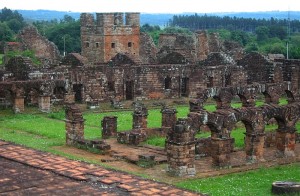 The Jesuit Reductions of Trinidad, the La Santisima Trinidad del Parana, is one of the most popular historical sites in Paraguay. Located just outside of Encarnacion, the former mission is one of two that have been named a World Heritage Site by UNESCO.
The Trinidad ruins are one of the most well preserved ruins in the country. This can be partly attributed to the fact that it was the last of eight missions constructed in Paraguay. Built in 1706, it was built almost a century after the first Reduction appeared in Paraguay.
The ruins has withstood the weathering of time fairly well and Paraguay's historical societies have helped to maintain the site. There is still a lot of the church and the cloister still remaining in Trinidad, sitting in the middle of a wonderful, lush field virtually in the middle of nowhere.
The mission, built with reddish color stones is considered to be the largest of all the Paraguayan Jesuit Reducciones. It has the largest temple of any of the other ruins and Was one of the most important missions in the region. The temple has an altar that is carved from one single, large piece of stone.
The massive temple sits in the heart of the large central square. There are decaying remains of bell towers, the town's meeting place, a school, workshops and houses where the Guarani's lived. There is also a museum and what's left of an old cemetery on the grounds.
Inside the temple, there are still several sculptures and a scaled model of the entire mission. Visitors can see many wood carvings and paintings, as well as musical instruments that were all made by the native Indians that lived and worked inside the Reduction.
The construction of this massive Jesuit Reduction, spanned 61 years. It was began in 1706 and didn't reach completion until 1767. The carvings found throughout the mission, such as in the stone altar, the tower and the sacristy door were all done by the Indians. And, depict images of all of the persecution that the natives, the Guarani, were enduring at the time.
These historical ruins provide an amazing glimpse into the lives of the nearly 4,000 Indian's that lived here. Proof of their talents and skills are abundant in everything from the beautiful carvings to the spectacular baroque style architecture of the buildings. And, now that the ruin is being maintained and restored on a constantly, it will continue to share it's rich history for many years to come.