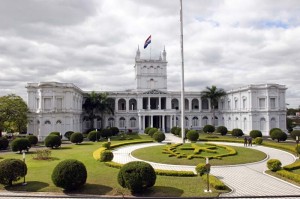 One of the most beautiful buildings in the city of Asuncion is the government palace. The construction of the Palacio de los Lopez began in 1857 as the residence for General Francisco Solano Lopez. But, the construction stopped with the outbreak of the War of the Triple Alliance and the palace wasn't completed until 1892.
Francisco Solano Lopez succeeded his father as president of Paraguay when his father died in September of 1862. His presidency was confirmed by a Paraguayan Congress of Deputies and he took office in October. Lopez held the office until he was killed by allied forces in 1870 during the War of the Triple Alliance.
With the start of the war the construction was delayed, but when Lopez was killed in battle, further construction was abandoned. In 1887, President John Gonzalez commissioned that the palace be completed to be used as the seat of the countries national government.
The palace is ideally located in the city square directly overlooking the Asuncion Bay which provides an amazing view. It occupies two acres of land that were given to Francisco Solano Lopez by his godfather, Lazaro Rojas at the time of his christening.
It's definitely the most impressive buildings in Asuncion. Designed in a neoclassical style, it features wide staircases and verandas. Both floors of the palace are dominated with the same style featuring continuous arches all the way around the top floor balcony.
The main body of the building is enhanced with two wings that sit on either side forming a squared "U" shape and encompassing the grounds at the front entrance. And, in the center of the building, a lookout tower hovers two stories about the top floor roof.
British architect, Alonso Taylor was initially commissioned for the construction of the palace. But, several other architects had a hand in the buildings design before it was completed. French builder, Daumas Ladouce Felix and Italian architect Alejandro Ravizza also had input into the final outcome of the government palace.
There once was a sculptural group at the palace that was created by Englishman John Owen Moyniham and Andreas Antonioni, an Italian. The stones had been extracted from nearby quarries, but these were removed over the years and it is unknown where they are now.