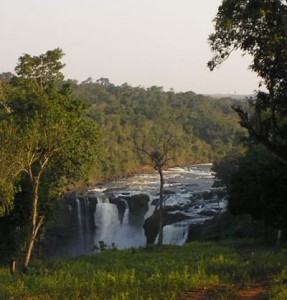 The Monday Waterfall is located just outside of Ciudad del Este in the city of Presidente Franco and near the border of Brazil and Argentina. The waterfalls is one of the largest in the region, second in size only to the impressive Iguassu Falls across the Paraguayan border.
Situated within the boundaries of the Monday Municipal Park, the waterfalls are some of the most beautiful in Paraguay. There are three falls in the park with the highest one reaching almost 132 feet. The falls create a spectacular array of white mist and water droplets as they crash to the brush and rocks below.
The falls descend very near the mouth of the Monday River and make their way down the canyon before flowing into the Parana River. Since the falls aren't as well known and popular as the Iguassu Falls, there are fewer visitors which creates a more private environment that visitors can enjoy.
The lush vegetation surrounding Monday Fall's has numerous trails featuring easy to climb stairs that lead to walkways and balconies that provide wonderful, closeup views of the cascading falls. There are also numerous picnic and camping areas that make the area perfect for an escape to Mother Nature!
From Ciudad del Este, the Monday Falls are just a short trip of around 15 minutes. The impressive falls are in a well preserved wooded area and there are well maintained gardens throughout the park that are perfect for picnics, or to just relax after a hike around the falls.
This natural reserve spans almost 23 acres and the thick tropical forest provides various types of wildlife and birds for nature lovers to observe. For the more adventurous types, the steep rock walls that encompass the falls offers a great opportunity for rock climbing right along the edge of the rushing water.
Hiking opportunities are also abundant in the park. The trails cross the park and can be taken all the way to the banks of the river at the base of the falls. Swimming is also allowed, providing that care is taken to be very careful of the swift currents.
The park has paved walkways, rest rooms, water fountains, a coffee shop and even a small souvenir shop. There's a foot bridge and an observatory that both provide amazing views of the falls and the Monday River valley below. The word "Monday" is a Guarani word that means robbed river. Maybe it refers to this beautiful natural wonder, being robbed of reputation and popularity it so duly deserves by the Iguassu falls!